Training for Tinkicking and Beyond
Air Line Pilot, January/February 2002, p. 16
By Jan W. Steenblik, Technical Editor
ALPA's Basic Accident Investigation Course gives pilots the skills and knowledge they need to participate in government investigations of airline accidents.
No aviation accident investigator ever forgets where he or she was when The Call came—especially the first one. It's like remembering where you were when you heard that President John F. Kennedy had been shot, or that airliners had flown into the World Trade Center and the Pentagon.
For First Officer John David (American), deputy chairman of the Allied Pilots Association's National Safety and Training Committee, The Call came shortly after 9:15 a.m. on Nov. 12, 2001: American Flight 587, an Airbus A300-600, had crashed a couple of minutes after takeoff from New York's John F. Kennedy International Airport.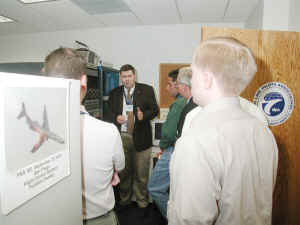 During ALPA's Basic Accident Investigation Course held in Herndon, VA., staff engineer Corey Stephens gave pilots a tour of ALPA's state-of-the-art facility for analyzing FDR and CVR recordings as part of accident and incident investigations and enforcement actions.
F/O David was at home in Texas when The Call came. By the next morning, he was standing at the intersection of Beach 130th Street and Newport Avenue in the Belle Harbor section of Queens, N.Y., amid the mangled aluminum, human remains, and brick fragments soaked in Jet-A. Soon he would be assigned to the Structures Group in the NTSB accident investigation. Fellow American First Officer Mike Michaelis, acting deputy chairman of current operations for APA's National Safety and Training Committee, served at the crash scene as assistant to Capt. Don Pitts, the APA coordinator for the accident investigation.
Only the week before, F/Os David and Michaelis and 35 other pilot safety representatives from 20 airlines—both ALPA-represented and not—had completed the Association's Basic Accident Investigation Course. The 4-day course, usually held twice a year, is a popular draw, with practical lessons that pilots hope never to have to use. What follows is a look inside this course.
MECs and chain of command
Keith Hagy, manager of the Accident Investigation and Engineering unit of ALPA's Engineering and Air Safety Department, outlined for the class the ALPA chain of command and investigative structure. The master executive council (MEC) of the pilot group involved, he noted, bears the main responsibility for coordinating the ALPA response to an accident and for providing resources—mainly trained pilot volunteers.
"On average, each airline will go eight to ten years between accidents," Hagy pointed out. "Chances are, your team won't have firsthand experience in accident investigation when your next accident occurs. That's why we have the [ALPA-wide] Accident Investigation Board (AIB).
"The time not to find out you're not prepared is immediately after the accident," he declared.
Process and protocol
Capt. Lindsay Fenwick (Northwest), vice-chairman of ALPA's AIB, addressed the actual process and protocol of accident investigations conducted in the United States by the National Transportation Safety Board (NTSB) and in Canada by the Transportation Safety Board of Canada (TSBC).
"Every accident is an opportunity," Capt. Fenwick asserted. "We have not done our job until we have achieved change and closed the loop."
As an example, he cited the January 1982 landing overrun of a World Airways DC-10 that slid off a slick runway into Boston's Winthrop Bay. ALPA's involvement in the accident investigation—though a different union represented the World flight crew—led to real improvements in disseminating runway friction conditions to pilots.
Capt. Fenwick noted that this Basic Accident Investigation Course has evolved over the years. "We don't teach much of the basic techniques—the tinkicking—in this course anymore," he explained. "We teach the process, because accident investigation is a game with rules."
Knowing and playing by the rules, he emphasized, "can mean the difference between staying on an NTSB accident investigation as an interested party, or getting kicked off."
One of the NTSB protocols for an accident investigation, for example, is that the pilot representative on the cockpit voice recorder (CVR) group must personally know or have known the flight crew, be current in type, and understand the investigation process and procedures. ALPA's accident investigation staff provides short-term training to prepare the CVR group member for that role.
The rationale for requiring the CVR group rep to know the crew members, he explained, is that "the cockpit area microphone doesn't record very clearly, especially if other background noises—for example, hail or heavy rain—are present. Also, some of the words spoken may be marginally decipherable; in such cases, personal knowledge of the crew members' speech patterns can be critical."
Regarding the NTSB's "party" system of accident investigation, Capt. Fenwick asked, "Do the parties bring prejudices to the investigation? Absolutely. Do they bring economic interest to the investigation? Absolutely.
"But the fundamental premise behind the party system," he countered, "is that at the end of the day, all the competing interests balance out, and the truth will come out."
Expenses
Capt. Fenwick said, "Accident investigations don't come cheap. ALPA will dispatch resources—whatever it takes—to the field investigation because the stakes are so high. No other pilot group in the world can match our resources."
The field phase of the investigation, Capt. Fenwick advised, is not just the work that goes on at the accident scene—it includes all the fact-gathering. He cited the August 1995 accident involving Atlantic Southeast Flight 529, which crashed in a field near Carrollton, Ga. The Embraer 120 Brasilia went down after throwing a propeller blade; the underlying reasons for the blade separation—inadequate and ineffective inspection and remanufacturing techniques—were discovered by careful examination of maintenance records.
He noted that, in field investigation, "so much of it is on-the-job training."
Capt. Fenwick stressed that "even a relatively small accident can be pivotal in achieving change." The Express Airlines II Flight 5719 at Hibbing, Minn., in December 1993, he said, "killed 'only' 18 people, but it happened in congressman Jim Oberstar's back yard. ALPA was able to use his assistance to support the One Level of Safety campaign to bring regional airline safety up to the level of major airlines."
Accidents overseas
"More and more of our accidents are occurring outside the United States and Canada," Capt. Fenwick continued, "so understanding ICAO Annex 13 and the complexities of international investigations has become increasingly important."
First Officer Andre Cossette (Air Transat), who has been participating in the Portuguese government's investigation of the deadstick landing of Air Transat Flight 236 in the Azores in August 2001, pointed out that, under ICAO Annex 13, only the investigator in charge is permitted to listen to the CVR recording.
A Hawaiian Airlines pilot responded, "It never hurts to ask. In our landing overrun at Tahiti, our accident investigator developed a good enough relationship with the relevant authorities that they allowed that investigator to go to France and listen to the tape with the BEA [the French aviation accident investigation authority]."
Capt. Fenwick said the Swissair Flight 111 accident investigation in Canada has been "a watershed event," because "the TSBC process morphed into being a lot closer to the [NTSB] party system. The TSBC saw the value of broader participation, and the productive contributions of the pilot group."
Accident survival factors, pathology, and identifying remains
"The victims talk to you" during an accident investigation, Capt. Todd Gunther (Comair), chairman of the ALPA-wide AIB, told the course attendees. He meant, of course, that much can be learned about the causes, severity, and details of the accident by examining human remains.
NTSB investigators, he said, may investigate 60-100 general aviation accidents per year. Lacking CVRs and flight data recorders to work with in such investigations, these investigators become very good at "reading wreckage and remains." Capt. Gunther said he can tell, from a fairly quick look at the wreckage and body parts, the attitude of the airplane and the flight path at the time of impact. For example, he explained. "Flailing often results in broken fingers, wrists, and lower extremities."
Capt. Gunther introduced his slide show of body parts—for example, how to identify human remains by tattoos, fingernail or toenail polish—with the caveat, "Some of this stuff isn't pretty, but it's better to see it here first than during your first accident investigation."
Portable X-ray equipment is a vital tool at the scene of "high fragmentation" accidents, he said, because in such cases, "aircraft parts become intermingled with body parts. So we X-ray all body parts of any size."
Similarly, he emphasized that the yellow police tape around the accident scene is "an artificial boundary. Don't presume that all the wreckage and human remains are contained within the yellow tape."
Capt. Gunther wrapped up his sobering presentation with the admonition, "A lot of people come into accident investigation thinking, 'This is glamorous, exciting stuff.' It's not. You're going to do a lot of grunt work. It's exhausting, demanding, and sometimes dangerous."
Capt. Fenwick had pointed out that the accident investigation scene can be "a very hazardous environment—biohazards, falling and shifting wreckage, snakes, heat, cold, downed electric wires, and so forth."
ALPA coordinator
Senior staff engineer Mike Huhn discussed the role of the ALPA coordinator during the on-scene investigation. Part of the discussion involved the role of the ALPA representative who gets the surviving crew members away from the scene.
"In my limited experience," advised First Officer Jessica Hatfield (US Airways), "your role is to save them from themselves," as well as to get them away from reporters.
Huhn said, "It's human nature, after an accident, to feel guilty about it and want to do a data dump. The ALPA rep's role is to prevent it until the attorney arrives. If the crew does do a data dump on you, dissociate yourself from the accident investigation and attach yourself to the attorney or the CIRP volunteers."
"Defending the operating crew is not our job," Capt. Fenwick had cautioned. "We have lawyers for that. The pilots will be judged against the perfect pilot flying the perfect airplane on the perfect flight. We all know that no such thing exists. That's why we're involved."
On the other hand, he emphasized, the pilot representatives must "accept adverse facts"—i.e., some of them may not be favorable to the flight crew. However, the truth must be rooted out to help prevent future accidents. Line pilots, he said, "bring a unique perspective to an accident investigation—we've been there, done that."
And Capt. Gunther had said, "You're part of the quality-control process. Most pilots are pragmatic, sequential, skeptical."
Huhn added that the ALPA coordinator's "Ten Commandments," are as follows:
• Always seek and speak the truth.
• Remember whom you represent, and who represents you.
• Always follow the rules.
• Never allow anyone else to break the rules.
• Gather all the facts.
• Always acknowledge and recognize outside pressures on the investigation.
• Never allow those pressures to drive the investigation.
• Never fall in love with a theory.
• Never stop investigating.
• Be dedicated, but be careful.
Legal issues and representation
Jim Johnson, supervising attorney in ALPA's Legal Department, reviewed the NTSB definition of an accident—because trying to get "accident" downgraded to "incident," if possible, is important. A pilot is better off not having "accident" on his or her permanent record if he or she wants or needs to change airlines.
Also, Johnson pointed out, if a relatively minor occurrence is officially deemed an incident, the flight crew members can file ASRS reports and obtain limited immunity from FAA legal sanctions—the penalties that might result from enforcement action.
Asked if the investigator should advise surviving flight crew members to write down their recollections while waiting for the attorney, Johnson answered no, because the notes would be "discoverable"—i.e., legally required to be handed over to investigators or attorneys. The attorney will take notes later, while interviewing the crew members; the attorney's notes are "privileged"—the attorney cannot be required to turn them over.
"As an accident investigator, you are highly likely to be deposed in any subsequent litigation," Johnson cautioned.
The U.S. federal law that now protects the CVR recording from disclosure, said Johnson, is a protection that ALPA obtained after the 1988 no-flap takeoff of Delta Flight 1141 at Dallas-Ft. Worth.
In investigations of incidents and accidents on foreign soil, pilots' rights are whatever the country provides—which may be next to nothing.
"The best advice I can give—based on long experience—is to get out of the country as soon as possible," Johnson declared. "I don't care what they charge you with and try you for—as long as they do it in absentia."
Worldwide, said Johnson, ALPA knows of 27 cases of criminal prosecution, with varying degrees of punishment. Two more cases are pending: (1) Singapore Airlines Flight 006, which took off on a closed runway at Taipei, and (2) a Falcon 900 operated by Olympia Airways pilots in Greece, which went into severe pitch oscillations after the pilots made trim inputs without turning off the autopilot; government officials in the cabin were killed.
Critical Incident Stress Management
First Officer Constantine "Conny" Kleissas (US Airways) may have the unenviable but valuable distinction of being the only member of the ALPA AIB ever to have been a flight crew member involved in a fatal airline accident. He has been active in ALPA's Critical Incident Response Program (CIRP) and knows firsthand the need for such a program to help surviving crew members after an incident or accident.
"CIRP has evolved to the extent that the CIRP volunteers are no longer an addendum to the accident investigation, but a fully integral part of the team," he explained.
F/O Kleissas told about being the brand-new first officer on USAir Flight 5050, which ended up in the approach light piers after an aborted takeoff from New York's La Guardia International Airport on Sept. 21, 1989.
After F/O Kleissas—who can't swim—was rescued from the pier to which he clung, he was taken to a Port Authority substation on the airport, still dripping water on the floor. "I'll never forget Capt. James Mancini (Northwest) walking into the room," he recalled. "I finally felt that help had really arrived."
Later, said F/O Kleissas, "I went into a total news blackout. I didn't watch television or read the newspaper. I didn't need them telling me what happened. I was there, and if I didn't know what happened, how would they?"
Five years later, F/O Kleissas served as a member of the NTSB's Structures Group in the agency's investigation of the September 1994 crash of USAir Flight 427 near Pittsburgh, Pa.
Peer support volunteers who work in ALPA's CIRP "aren't people who just walked in off the street with good intentions," F/O Kleissas emphasized. "They've received rigorous training, including annual required recurrent training."
The seven-step Critical Incident Stress Debriefing process, he explained, involves "controlled release of emotions. It works amazingly well."
F/O Kleissas recounted flashbacks he experienced after his own accident: A U.S. Coast Guard Dauphin helicopter hovered over water. Hearing the Dauphin's distinctive engine and rotor sounds later, he said, "put me right back in the water with that million-candlepower light on me."
In the second instance, his cousin's garage burned down. "The smells were—well, I can name that smell in three notes," he said.
Despite F/O Kleissas's travails as a result of the USAir Flight 5050 accident, he declared, "I found out [later] that being an accident investigator is ten times more stressful than being the surviving crew member."
Human performance considerations
Capt. Bill Jones (Delta) talked about human performance considerations in accidents—and investigating them. "Delta is my third airline," he told the course attendees, "and I can tell you, every company has a different corporate culture."
Capt. Jones said that pilots tend to be very good at task execution, but that "where they usually get in trouble is in [losing] situational awareness—and that's where I tend to focus in accident investigations.
"In accident investigation, you get what's called 'hindsight bias,'" he warned. "We have to start with the way the world was, but then work hard to understand how the pilots perceived it—what elements created the flawed situational awareness. Always ask yourself, 'What did they know, and when did they know it?'"
One participant said his airline's B-717s are wired so that the strobes don't activate until the nosewheel strut extends. The strobes cannot be turned on while the airplane is holding in position for takeoff.
"In that case, if one airplane lands on another, the lack of strobe lights on the ground would be a latent failure," Capt. Jones responded, "while the pilots' failure to see the other aircraft and the controller's forgetting the airplane holding on the runway would be active failures.
"Managers create errors, too," Capt. Jones continued, "but few active errors. An active error for a manager is, he hits the wrong key and deletes his document. An active error for me is that I hit the wrong key and I derate the engines twice and we don't have enough thrust to take off from Mexico City—a little more dramatic."
Addressing latent conditions, Capt. Jones argued, "offers the greatest potential for safety improvements."
He also said, "A human factors investigator doesn't need a Ph.D. in psychology or a master's degree in engineering systems."
Capt. Jones compared two USAir icing accidents and their respective effects on aviation safety.
In February 1979, an Allegheny Airlines (US Airways predecessor) Nord 262 turboprop crashed on takeoff at Clarksburg, W.Va. The NTSB said the probable cause of the accident was the captain's decision to take off.
In March 1992, a USAir Fokker 28 crashed on takeoff at La Guardia. Dr. John Lauber, an aviation human factors expert from NASA, was then a member of the NTSB; his research background showed that simply blaming the flight crew in such cases was unproductive.
The Safety Board's determination of the probable causes of the F-28 accident addressed the latent failures of the FAA and the airlines to give pilots the procedures, training, and information they needed to deal with icing.
"Between 1979 and 1992," Capt. Jones revealed, "twelve takeoff-in-icing airline accidents occurred worldwide. Since 1992, we've had none or one."
FDRs and aircraft performance
Staff engineer Corey Stephens explained the current FAA requirements for flight data recorders (FDRs) and the NTSB's recommendations calling for upgrading FDRs on older airplanes.
One of the most important aspects of dealing with an FDR readout, he said, is assessing the validity of the data. He gave the example of one investigation in which FDR data showed a DC-8 had been inverted and climbing. Obviously, the data were faulty.
Stephens presented examples of good data taken from FDRs, and how those data were integrated and correlated with the CVR recording.
FBI issues
ALPA's newly hired senior security specialist, Howard "Butch" Luker, talked to the course attendees about FBI issues in an investigation. Luker retired as an agent from the FBI after more than 29 years on Sept. 30, 2001, when he became an ALPA employee.
Luker said that the FBI has jurisdiction in all cases involving air piracy, interference with the flight crew, carrying a weapon or explosive, or giving false information or making threats.
That authority, he continued, extends to all civil U.S.-registered aircraft, all aircraft of the U.S. armed forces, any other aircraft in the United States, and certain other aircraft proceeding to land in the United States.
Regarding drunk and/or disruptive passengers, he said, "Once they're on the ground, they're the FBI's. Your airline does not have the authority to tell you what to do" if an event already has been communicated to the FBI, Luker explained. "The FBI agent will interview all of the appropriate parties, then take the case to the U.S. Attorney's office and file a complaint. The U.S. Attorney prosecutes the case."
Government representatives
Harold "Bud" Donner, manager of the FAA's Accident Investigation Division, and Tom Haueter, deputy director of the NTSB's Office of Aviation Safety, together presented an informative short course on the roles of their respective agencies during an aviation accident investigation.
Donner said the FAA staff who participate in a Safety Board investigation do not get involved in enforcement action. To Haueter, he said, "I guess you're the guys with the white hats; ours are at least pearl gray, and I guess our friends in [FAA's] Flight Standards [Division] wear the black hats."
Haueter stressed that the NTSB looks to the parties from the standpoint of "what technical assistance you can give us in the investigation."
Nick Stoss, chief of TSBC's Air Investigation Operations, explained how the TSBC works in an accident investigation. He said the TSBC investigative staff includes ATPL-rated pilots; "in the last few years, we've done fairly well at getting retreads from various defunct airlines."
Stoss noted that TSBC has not included "probable cause" statements in its reports for more than 4 years. Like other countries, Canada has moved to citing multiple "findings" so that other parties will act on multiple safety issues, each of which affects aviation safety.
Appointment to observer status in a TSBC investigation, Stoss cautioned, "is not automatic, even for ALPA." However, he said, "we almost always include the pilots as PDIs [persons with direct interest]. In the case of pilot deaths, we stretch it and extend PDI status to the family of the deceased pilot."
The TSBC, said Stoss, is required by law to send a confidential draft report to all observers and PDIs for review and comment before releasing the report publicly.
Wreckage documentation and hazards
Capt. Gunther covered wreckage documentation and hazards. Good wreckage documentation, he pointed out, is essential for analyzing crash dynamics and survival factors. It must be done correctly, the first time, and at least two parties must be involved in documenting any wreckage.
Cockpit documentation is extremely important, he stressed. Each control, switch, and instrument must be documented completely as soon as possible.
However, he cautioned, "Do NOT try to determine whether each switch still moves!" Many modern aircraft systems contain digital components, and Capt. Gunther said that many will retain non-volatile memory after a crash or other type of accident. Gleaning data stored in such non-volatile memory calls for special handling, caution, and a slow pace.
Moreover, the accident investigators must meet before exploring the accident site to determine where the components with non-volatile memory might be.
Capt. Gunther covered other topics such as different methods for diagramming wreckage—using a grid, polar, single-point, or straight-line system—and some important tips for photographing wreckage (use slow 35mm color film, a macro lens, and a flash at all times).
Making changes after an investigation
ALPA senior staff engineer Chris Baum discussed the all-important rulemaking that often needs to follow an accident to effect meaningful change.
"Completing the factual reports and the [ALPA] submission to the Safety Board, or even finding the cause, is not enough," Baum declared. "The process isn't over when the NTSB issues safety recommendations. Our job is done only when the appropriate requirement has been changed and implemented, when compliance with the new requirement has been demonstrated, and when nobody dies."
Baum explained how to "build" safety recommendations that will succeed. He also detailed the current Aviation Rulemaking Advisory Committee process, which the FAA now uses to involve aviation industry groups, including ALPA representatives, in developing a consensus on new rulemaking proposals before the agency publishes a notice of proposed rulemaking and eventually a final rule.
Dealing with reporters
ALPA senior communications specialist John Mazor taught the short course on dealing with reporters during an accident investigation.
"The most important thing to remember is that ALPA participates [in a U.S. accident investigation] at the pleasure of the NTSB," he cautioned. "We can lose our party status for speaking publicly on the record to reporters about the investigation.
"The investigative team is kept isolated from reporters," Mazor explained. "We build a firewall to protect you folks.
"You must be very careful what you say and where you say it," he continued. "Casual conversations in the hallway or a restaurant may end up in tomorrow's paper.
"Not talking to reporters is difficult," Mazor acknowledged, "especially after you read or hear erroneous reporting. You have to fight off the urge to set the record straight. The best thing to do is to call the ALPA Communications Department."
In most cases, "the press wants to talk to a real airline pilot. So we assign a trained pilot spokesman, especially for the [NTSB] public hearing. I work very closely with that individual, getting him or her spooled up on all the ALPA issues," Mazor said. "What we don't need is freelancers trying to help out.
"We have a free press. That means they can print whatever they want. Our job is to try to make sure it's as accurate as possible and that it reflects ALPA's position."
Bloodborne pathogens
Capt. Gunther and Capt. Paul Brady (American Eagle), another member of the ALPA AIB, conducted the OSHA-mandated training on bloodborne pathogens at the accident scene and ALPA's OSHA-approved exposure control plan.
Accident investigators must wear special biohazard suits, masks, boots, and gloves to protect themselves against such disease organisms as HIV and the various strains of hepatitis that can contaminate the accident site. While approximately 10 medical/health workers in the United States die each year from exposure to HIV, an estimated 100–200 die from becoming infected with hepatitis B in their workplace.
In hot weather, wearing the "bunny suit," Capt. Brady warned, can cause potentially fatal heat stroke at the accident site. "You have to strike a delicate balance between trying to get some productive work done and keeping yourself properly hydrated," he advised.
The final part of the Basic Accident Investigation Course was for each and every participant to practice donning and doffing the "bunny suit" and associated gear, which involves specific procedures to ensure protection from biohazards.
Awaiting the dreaded call
Then the students were on their way to the airport for the trip home, laden down with two very thick binders crammed with reference material, resources, the course slides, and a headful of knowledge passed on by internationally recognized experts in the sobering and arcane art of aviation accident investigation.
F/O David could have no idea how soon he would have to don the "bunny suit" and put that new knowledge to work. Nor do any of the other course graduates know when they will receive The Call—only that they have been trained by some of the best, and that they will, like their forebears, be ready.
CAPTION
During ALPA's Basic Accident Investigation Course held in Herndon, Va., staff engineer Corey Stephens gave pilots a tour of ALPA's state-of-the-art facility for analyzing FDR and CVR recordings as part of accident and incident investigations and enforcement actions.