1970s
The 1970s marked a difficult time for the U.S. airline industry. The threats of skyjacking became realities and hit closer to home. Despite the difficulties, the decade did contain some success stories in the area of aviation safety: ALPA's Safe Transportation of People (S.T.O.P.) campaign was victorious, the FAA established the first airport certification requirements after nearly three decades of pressure by ALPA, and NASA launched the Aviation Safety Reporting System (ASRS) – an airline incident database that ALPA helped pioneer. ALPA also initiated the first studies on the role of windshear in airline accidents.
1970 —President Richard Nixon signs legislation creating the Airport and Airway Trust Fund to pay for the Airport Development Aid Program and other safety-related projects through user taxes. ADAP replaces the Federal Aid Airport Program, which was funded from the general treasury. ALPA was a prime and outspoken supporter of the creation of the trust fund.
After three decades of lobbying by ALPA, the FAA creates an airport certification program. 1972
1970 —ALPA identifies the need for an airborne collision avoidance system and begins work to make such a system a reality.
1970 —ALPA's Aeromedical Office is established in Denver, CO.
1970 —21st Meeting, ALPA BOD, which
· establishes a permanent Flight Security Committee and authorizes a suspension of service (S.O.S.) if any
crewmember or passenger is killed during a skyjacking attempt;
· calls for the development of a collision avoidance system to replace the outdated concept of "see-and
avoid"; and
· turns down a proposal to let each MEC decide crew complement policy for its own pilots.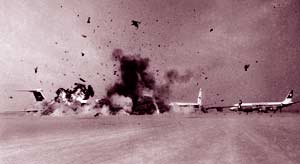 A BOAC VC-10 hijacked in Jordan is blown up in September 1970. The 1970s were marked by a tremendous rise in aircraft hijackings across the globe. ALPA lobbied tirelessly for stiffer penalties for hijackers, and, in 1972, announced its plan for a "suspension of service" to all countries that aided aircraft hijackers.
1971 —At ALPA's urging, the world's first airport disaster drill takes place in Oakland, CA. The National Fire Protection Association and ICAO later write materials on the subject with heavy input from ALPA. In 1987, the FAA requires full-scale emergency drills be practiced every three years at certificated airports.
1972 —After literally 30 years of lobbying by ALPA to create an airport certification program, the FAA adopts a regulation (Part 139) requiring airport operators to obtain a certificate from the FAA showing that they comply with safety standards.
1972 —ALPA announces plans for an S.O.S. to all countries that aid aircraft hijackers. Two days later, IFALPA calls for a worldwide S.O.S. by pilots on June 19 if the United Nations fails to make a prompt attempt to stop hijackings. On June 18, after the UN fails to respond to IFALPA's plea, the Air Transport Association (ATA) obtains a court order restraining ALPA pilots from participating in the IFALPA boycott, which takes place as planned on June 19.
1972 —ALPA initiates the first studies to help identify the effects of windshear on aircraft performance. The initial work is based on the 1972 TWA accident at JFK Airport.
1972 —22nd Meeting, ALPA BOD, which
· establishes an anti-hijacking campaign to lobby for stronger measures against terrorism.
"After years of intense lobbying by ALPA, the FAA approves rules requiring GPWS in airliners. Use of GPWS has significantly reducted controlled-flight-into-terrain (CFIT) airline accidents." 1975
1973 —Following the inflight fire on Pan Am Flight 160, started by an improperly packaged shipment of nitric acid, and its subsequent crash at Boston's Logan Airport in 1970, ALPA launches Project S.T.O.P. Airline pilots start refusing shipments of all HAZMAT, except certain critical items such as medicine.
1974 —ALPA publishes the first "S.T.O.P. Checklist" for pilots on transporting HAZMAT.
1974 —ALPA introduces the Human Intervention and Motivation Study – the first reliable, systemwide program to help airline pilots with substance abuse problems.
1975 —After years of intense lobbying by ALPA, the FAA approves rules requiring ground proximity warning systems in airliners. Use of GPWS has significantly reduced controlled-flight-into-terrain (CFIT) airline accidents. Lobbying was based upon evaluations conducted on commercially available hardware. However, not until the 1974 TWA Flight 514 accident near Dulles Airport did congressional interest force appropriate FAA action. In addition to mandated GPWS, the accident also leads to the creation of ASRS and clarifies the ATC instruction "cleared for the approach."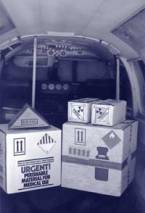 Containers are labeled as HAZMAT. S.T.O.P. to urge the U.S. government to improve its regulations covering the air transport of hazardous materials.
1975 —President Gerald Ford signs the Transportation Safety Act of 1974, removing the NTSB from the DOT. This marks the first time since 1966 that responsibility for investigating accidents is vested in an independent agency. The act also directs the DOT to draft new regulations on the shipment of HAZMAT. ALPA pushed for both reforms. ALPA was, and remains, an active participant in all accident investigations involving ALPA members and in many that do not but that have safety implications for ALPA members and the flying public.
1975 —ADAP expires for lack of congressional legislation to renew it. ALPA urges lawmakers to continue it.
1976 —After more than two decades of urging by ALPA for a pilot incident reporting system with immunity protections based on foreign carriers' success with similar systems, the National Aeronautics and Space Administration's Ames Research Center in California begins operating ASRS to develop a database of the safety problems encountered by pilots and controllers in the day-to-day environment. ASRS has become the model for reporting systems worldwide. ALPA was a principal proponent of ASRS and has been represented on NASA's ASRS Advisory Subcommittee since it was created. The Association also participated in the NTSB investigation/hearing into the cause of the previously mentioned TWA Flight 514 accident, where ALPA was instrumental in highlighting the need for such a system and led to its creation and implementation.
1976 —After great urging by ALPA, Congress renews ADAP.
1979 —FAA Administrator Langhorne Bond tries to severely modify ASRS – by eliminating the waiver of disciplinary action for crewmembers reporting an incident to ASRS. ALPA and the airline industry are quick to condemn the intended action, and at a hearing convened by Congress, a united airline industry strongly opposes the FAA's proposal. ALPA participates in hearings and supports NASA's ASRS Advisory Subcommittee in its opposition to the proposal. The FAA then backs down from its original proposal and issues a rule that a waiver of disciplinary action would be available only if a reporter has not been found guilty of violating a federal aviation regulation within the preceding 5 years.